Ozz Organic
Live, Work ▼ > Meet Your Locals
Ozz Organic is a partnership between Lesley Birch, Bob Weston and Lyn Weston which started almost 10 years ago. Lesley grew up in the Garfield area while the Westons are from the Eastern suburbs of Melbourne. The current business started in Bob's garage in Forest Hill and over the years, products were perfected and procedures streamlined to make our products more affordable. In 2016 the business moved to Tynong however they soon outgrew this site. Then in 2018 they moved to their present site in Beswick Street where they occupy half a large warehouse.
Dave Weston and Lesley Birch
The range of products are all fully ORGANIC and no chemicals are used. Every ingredient is also bio-degradable. We manufacture products for household cleaning as well as pet products and we are available in stores across Victoria. We mainly wholesale our products into supermarkets and the like but we also have on line sales via PayPal.
Our cleaning products cover most areas of home cleaning, they include:
Dishwashing Liquid
– Strong enough to remove dirt, grease and grime without the use of benzine sulphonates which are derived from petroleum. We have taken the fundamentals principles of soap and enhanced them to create a long lasting and functional detergent made from the most ecologically sound ingredients.
Carpet Spot Cleaner
– Ozz Organic powerful Carpet Spot Cleaner will remove just about any carpet stain and leave your carpet like new. It will remove many household stains including Sauces, wine, mud, vomit, dirt, grease, fat, and most ink stains.
Glass and Mirror Shine
– Our Glass & Mirror Shine will instantly clean and shine all glass and mirror surfaces in just one wipe after spraying. Also ideal for bench tops, stainless steel cook tops, marble and granite bench tops and dries instantly. No streaking.
Oven and BBQ Cleaner
– This is a completely organic cleaner that will strip fat, grease and grime from your oven or BBQ without needing gloves. Clean the oven, BBQ, Trays, glass doors, stove tops and both corning and metal baking dishes. No harsh smells. Gentle on your skin. It is also fully biodegradable.
Sparkle & Shine
– Ideal for all kitchen & bathroom surfaces. Made using the principals of soap but enhanced with extracts of essential oils that have powerful cleaning benefits. Requires minimal scrubbing and Sparkle & Shine will leave your sinks, shower screens and tiles shine like new.
Vanish Fabric Cleaner
– This powerful Fabric Cleaner will remove just about any soiling and food stains from fabrics with its powerful new organic formula. It is fully biodegradable and will remove many day-to-day stains including some ink stains.
Kwik Mist Fragrances – Ozz Organic Kwik Mist comes in four pleasant and popular fragrances, Musk, Vanilla, Coconut and Frangipani. They are blended with matured fragrance oils designed to neutralize bacterial odours. It has a powerful formulation that works immediately after application and lasts up to 48 hours with just one spray. It is ideal for the home, work and even the car to eliminate those disturbing odours. It is also ideal to spray on pets bedding and litter trays.
Mosquito & Insect Repellent
- This very popular product is a special blend of organic essential oils designed to repel mosquitoes & insects. It contains no chemicals including Deet or Citronella which can be harmful to the skin and to accessories like sunglasses etc. It is safe to use on humans and animals and will deter pests for up to 6 hours. It is also effective against moths, silverfish, midges, spiders & flies and leave a very pleasant fragrance.
Lice Treatment & Prevention
- Designed to eradicate and prevent head lice & lice eggs on children and pets. It contains a blend of special essential oils created to deter and prevent re-infestation of head lice. It is non-greasy so it can be used daily for continued prevention.
We also have a range of fully organic pet products to compliment our other range, they include:
Tail & Mane Grooming
– Fully organic de-tangling conditioning and grooming solution in one application for your horse. It contains no chemicals and is designed to detangle and condition your horses' tail & mane and keep it from detangling for a much longer time. It is made from selected essential oil derivative and leaves your horse with a lovely coconut fragrance.
Pet Shampoo
– A fully organic product and is a naturally derived alternative to widely used harsh chemical washes. It is a natural coconut oi; baby shampoo containing extracts of chrysanthemum flowers and oil of pennyroyal. The natural essential oils sleave your pet's coat smelling fresh and also aids in repelling insect contact.
Pet Conditioner – A fully organic conditioner for your pet's coat and a great grooming aid, it is designed to condition and detangle all types of pet hair and is especially effective for long haired dogs. This excellent conditioning effect comes from the blending of essential oils, including coconut oil which gives the product its lovely fragrance. It is free from petroleum derived products.
Diatomaceous Earth
- Diatomaceous Earth is made from the fossilized remains of tiny aquatic organisma called Diatoma, a type of hard-shelled algae. They bare natural silica which accumulated in riverbeds and streams and are mined and crushed to form a powder. It is totally natural and contains 15 trace elements. It prevents "clumping" of food particles in animal foods by keeping them separate and is ideal for all animals in their food. It also acts as a detox through their system. Can be used for around chicken coops, bird aviaries and in food for calves, chickens, horses, sheep, goats, dogs, cats and most small animals. It is also ideal to rub into your dog or cat's fur and in their bedding.
Available in 1kg and 3kg bags.
We at Ozz Organic are continually looking for ways to improve our current products as well as experimenting to create new products. We know that there are too many chemical-based products in the world today and we want to be able to replace these "dangerous" products with environmentally safe, reliable and effective solutions.
Sponsor Business
Natural Sol
utions for Everyday Living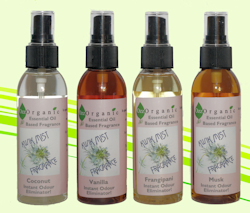 Ozz Organic
is 100% locally owned and made in Garfield, Victoria.
We pride ourselves on having operated for over 10 years supplying our products throughout Australia.
Our product range consists of NATURAL ORGANIC cleaning products for the home including Oven, Glass and Carpet cleaners, Tile & Sink cleaners, Dishwashing Liquid, Mosquito & Insect Repellents, Lice Treatment & Prevention and Kwik Mist Fragrances.
All ingredients used in
Ozz Organic
products are purchased from Thermogravimetric Analysis (TGA) approved sources.
We also produce Animal & Pet products used Nationally. They include Tail & Mane for animal grooming and Pet Shampoo & Conditioner.
We are committed to providing our customers with the highest quality organic products made from ingredients produced in Australia.
We also have a factory outlet in Garfield supplying DIRECT TO THE PUBLIC
for an appointment, please contact
ALL OUR PRODUCTS ARE PROUDLY BACKED BY OUR
100% MONEY-BACK GUARANTEE
Household Cleaners
Dish Washing Liquid - Ecologically sound
Sparkle & Shine - Kitchen & bathroom surfaces
Glass & Mirror Shine - No more streaks
Oven, BBQ & Fabric
Oven & BBQ Cleaner - Strips fat, grease & grime
Carpet Spot Cleaner - Removes most household dirt
Vanish Fabric Cleaner - Remove soiling & food stains
Convenient & Safe
Kwik Mist Fragrances
-
Coconut, Frangipani, Musk and Vanilla
Lice Treatment & Prevention - Removes lice & eggs
Mosquito & Insect Repellant

- Chemical free
Pet Products
Pet Shampoo - Coconut derived shampoo
Pet Conditioner - Detangle all types of pet and horse hair
Tail & Mane Grooming - Conditions coat and makes grooming easier
Diatomaceous Earth
Diatomaceous Earth is made from the fossillised remains of tiny aquatic organisms called diatoms, a type of hard-shelled algae. They are natural silica, which accumulated in riverbeds and streams and are mined and crushed to form the powder.
- is natural and contains 15 trace minerals
- prevents clumping of feed particles
- spread around chicken coops and bird averies