AM Personal Assistant
Live, Work ▼ > Meet Your Locals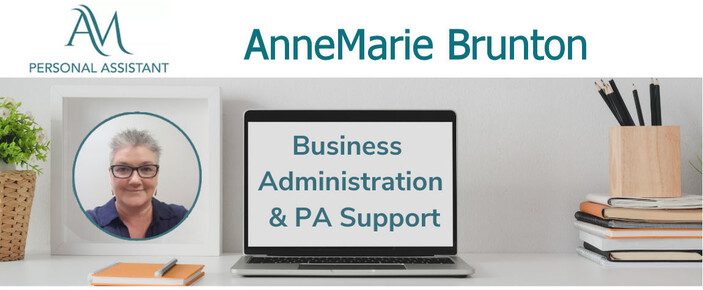 AM Personal Assistant
AM Personal Assistant, a leading business administration service provider, is delighted to announce its expansion into the role of a Virtual Assistant.
With over 20 years of experience in Administration and Personal Assistant services across diverse industries, AnneMarie Brunton, the business owner, is well-positioned to offer remote support services to businesses in need.
What is a Virtual Assistant?
A Virtual Assistant (VA) is a highly skilled office administration professional who provides comprehensive support services to businesses from a remote location. VAs are not employees but independent contractors, allowing businesses to save onboarding costs, equipment expenses, and insurances.
---
Key Services Offered by AM Personal Assistant:
---
Data Entry
Accurate and efficient data entry services to help businesses maintain
organised
and up-to-date records.
Electronic Filing
Expert electronic filing to ensure easy access to essential documents and information.
CRM Entry and Support
Streamlining customer relationship management by entering and managing crucial data.
Email Folder Management

Organising and managing email folders for improved communication and efficiency.
Document/Template Development
Creating
customised
documents and templates tailored to business needs.
With the goal of streamlining operations, enhancing productivity, and allowing clients to focus on their core competencies, AM Personal Assistant is committed to providing top-notch virtual assistance services.
AnneMarie, the owner of AM Personal Assistant, brings a wealth of experience in both the Public and Private sectors. Her extensive background in Administration and Personal Assistant roles has equipped her with the skills and knowledge needed to deliver high-quality and accurate support services to clients.
"As a Virtual Assistant, I'm dedicated to assisting businesses by handling their administrative tasks efficiently and professionally. My goal is to alleviate their administrative burdens so they can concentrate on what they do best," said AnneMarie, the business owner.
AM Personal Assistant is excited to bring its expertise in business administration to clients in Bunyip and district, helping them streamline their operations, boost productivity, and achieve their goals.
For more information about AM Personal Assistant's Virtual Assistant services p
lease visit
Small to Medium
Business Administration
Every task, no matter how small, is important to us.
Whether it's just 30 minutes, twice a week, we're here to help.