Cannibal Creek Vineyard
Live, Work ▼ > Meet Your Locals
made by hand from the ground up
Award-winning, single estate cool climate wines by Pat and Kirsten Hardiker
Cannibal Creek Vineyard is our home and our way of life. We planted the vines over 23 years ago and we still tend the vines by hand today.
Kirsten and Pat Hardiker tending their vines
Our Vineyard
Cannibal Creek Vineyard is about an hour East of Melbourne, on the fringe of Gippsland in Victoria. We are nestled in a greenbelt valley of high rainfall and rich soil farming land, beyond the urban sprawl. Here, the air becomes fresher and the distinct granite range of Mount Cannibal looms into view.
Since planting 20 years ago, our approach has always been one of low intervention. This is both in the Vineyard and in the Winery. Recently, we have had been closely monitoring soil biology and chemistry. Furthermore, we have been identifying nutrients and microbes that were low or lacking. We work to correct this through applying compost teas and fish emulsions to the soils. As a result, trace elements are applied through natural foliage sprays. This is in addition to general irrigation and drainage improvements throughout the vineyard. The results have been incredibly exciting. There have been noticeable improvements in the ground, on the vine and in the bottle.
Vines are tended to and picked by hand – sustainable soil nourishment. We believe that good wine (like good food) is mostly down to the growing. Importantly, we do very little once the grape leaves the vine, preferring traditional methods and French oak.
While vintages do vary, on average we see typical cool climate conditions. We see 14 daylight hours in the growing season, cool winters with heavy rainfall and some frost; Moreover, variably warm temperatures through spring and summer. Sandy clay loam soil makes for ideal natural conditions, not dissimilar to Burgundy in France. Granite and clay loams make for flinty mineral characters in the bottle.
Our Modern-Australian style menu is complimented by our French style wines. Specifically, we are inspired by France's most famous wine regions, Bordeaux and Burgundy. Most produce is sourced from local or Gippsland producers, supplemented by the onsite kitchen garden and growing orchard. Like our wine, our menu is designed for sharing, consisting of a tempting array of share plates and larger dishes.
The restaurant is family-friendly, with a kid's menu upon request. There is also a changing table for your convenience. The grounds are perfectly situated next to the large open windows of the restaurant and the deck. From here, you can enjoy a glass of wine whilst easily keeping an eye on the kids!
The deck is also open to our furry friends! We are dog friendly. So, feel welcome to bring them out for a day trip. Or, even take them on a hike at the nearby Mount Cannibal. Click here to check out our blog post on Mount Cannibal, and other notable hikes that we recommend for a lovely day out.
While the restaurant is new, it was designed to reflect our old corrugated turn-of-the-century barn. This is where all of our wine is still made. The Restaurant was designed by locals Nathan and Emma Green of Enarchitect. However, Patrick Hardiker personally constructed the fit-out that houses our Cellar Door.
Here, visitors can sample the Cannibal Creek wine range and purchase other items.
I didn't set out to be a winemaker but its become my life's work. I've always worked with my hands; I was a builder in Western Australia for many years. In retrospect, it was a good background to have. Together, Kirsten and myself have hand built the Cannibal Creek Cellar Door and vineyard that we have today. Obviously winemaking is a very different craft. However, from the very beginning, I was drawn to its artisan nature and the hands-on work that is required.
In more recent years, we have turned our focus to sustainability in our approach to farming. This means that when tackling each problem we come across, we do so with an awareness of all potential consequences for the soils, natural environment, the wine, and us of course!
I
've spent my life enjoying fine food and wine! Therefore, one of my main responsibilities is to ensure we create food and wine I would be happy to enjoy. I am also responsible for keeping the business running smoothly. If you have run your own business, you'll know that's no small matter!
While we didn't set out to win awards, reviews on our first Pinot Noir in the year 2000 gave us the added confidence in the vineyard's potential and untold confidence in ourselves!
Making wine is a bit like capturing a piece of history. Opening a bottle can transport you back to that particular vintage and what defined that particular year, not just what happened on the farm but also life events…. A bit like a wine dairy! Opening a bottle can transport us back to the day it was bought. It's one of the often-unforeseen pleasures of wine tasting your way around the country. We hope you can get the same please when visiting us!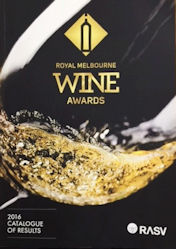 "We are very pleasantly surprised at the recognition our wine has received during the last five years. Our Halliday rating stands as a 4.5 star winery, through to a humbling 9 awards (including Wine of the Show) at the annual French-Australian Chamber of Commerce and Industry Wine Show Le Concours des Vins de Victoria in 2014. Each year, we are delighted by the widening ripple of recognition and support we receive from industry and the general public."
Winemaker, Cannibal Creek Winery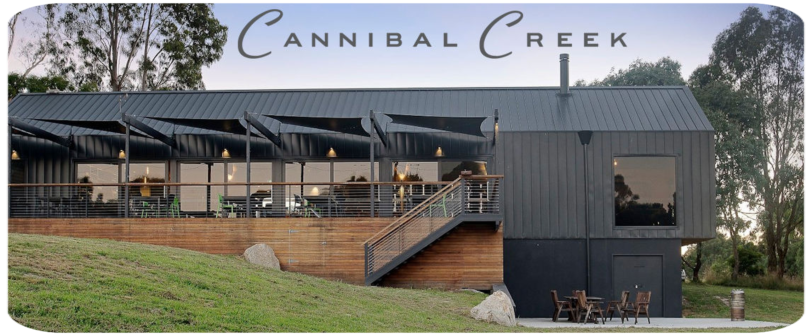 Sponsor Business
Local Wine and Food

made from the ground up
Opening Hours
Friday to Sunday 11am – 5pm for lunch
and Friday nights for dinner from 6pm – 8pm
made by hand from the ground up
Award-winning, single estate cool climate wines by Pat and Kirsten Hardiker
Hand picked single estate
wine made in Gippsland
We are a small, award winning, single estate Vineyard, family owned and operated.
We work here. We live here. We planted the vines twenty years ago and we still tend them by hand today.
Enjoy a seat at the long jarrah bar,
sink into a lounge by the fire,
or spend a little longer over lunch tasting our range,
all of which is grown, picked and made onsite.
The original winery is housed in the old corrugated iron and timber barn, circa 1900's, built by nearby landowners the Weatherhead family, using timber from Weatherhead Hill, seen North from the deck.
It's where we still make our wine today, it also housed our original tasting bar since the beginning in 2000 (which can now be found down stairs in our cellar room) up until our new cellar door was completed in 2016.