Garfield Fresh Harvest
Live, Work ▼ > Meet Your Locals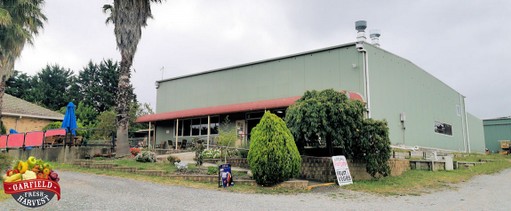 Garfield Fresh Harvest is a family owned and operated business. It is run by Terry, Helen & family.
Our story began in the early 1980s when Terry and his family bought an egg production business located in the Yarra Valley in which we still operate. From there we began producing our own vegetables and fresh produce using old traditional methods such as crop rotation and manure. As well as supplying our own fresh eggs we also delivered freshly picked produce to our wholesale customers. We later expanded by attending local markets. The demand for fresh produce increased and we required more land to create larger volumes of produce. Terry had always had a high regard for the Gippsland region, it's history and opportunity and when the chance arrived to settle here we were thrilled. This opportunity provides us with adequate resources to produce, harvest and supply a retail outlet.
Our fruit and vegetables can be seen growing around the shop and surrounding land. We have lush strawberry rows which in the near future will be available for pick your own buying.
Terry is focusing strong on growing and harvesting fresh produce at the farm while I run the farm shop in Garfield.
We supply our shop with fresh produce grown from our farm and when this is not possible we are dedicated to supporting local grown seasonal produce.
If you come and visit our shop you will be pleased to find a LARGE ARRAY OF A GREAT selection of gourmet products, gluten free and organic products, homemade jams, marmalades, relishes, chutneys, pickles and our own local honey as well as nuts, dried fruit, herbs, spices, pasta and rice.
The shop is laid out simply so items can be viewed easily and found. The staff are always courteous and friendly and are there to help with any queries you may have.
We also pride a cafe area with indoor and outdoor seating so you can come and enjoy a light brunch, lunch or afternoon tea/snack with our quality cakes, slices, scones, gourmet pies, focaccias/sandwiches, delicious real fruit smoothies and fresh juices as well as 16 flavour Gelati and real fruit/berry ice creams.
With a long family involvement of providing high quality services in the food industry we are proud to say that many of our customers are still with us and this shows they are pleased with the exceptional service we bring to them. By coming to our shop or buying via online ordering we can guarantee you will receive high quality service to match high quality products.
Sponsor Business
Family Owned and Operated
Open 7 days a week from 9am to 5pm
Shop in store or online
FAMILY OWNED AND OPERATED
We supply our customers with
fresh produce grown from our own farm
and when this is not possible we are dedicated to supporting local grown seasonal produce.
WE STOCK A GREAT SELECTION OF
Gluten Free and Organic Products
Homemade Jams, Marmalades, Relishes, Chutneys and Pickles
Local Honey as well as Nuts, Dried Fruit, Herbs, Spices, Pasta and Rice.
Enjoy a light brunch, lunch or afternoon tea/snack
in our comfortable cafe area
with indoor and outdoor seating available
Try our quality Cakes, Slices, Scones, Gourmet Pies, Focaccias/Sandwiches
We also serve elicious Real Fruit Smoothies and Fresh Juices
as well as 16 flavours of Gelati and real Fruit/Berry Ice Creams.
Fruit
Vegetables
Herbs
Boxes