Sponsor Business - Ozz Organic
Live, Work ▼ > Sponsor Businesses
Sponsor Business
Natural Sol
utions for Everyday Living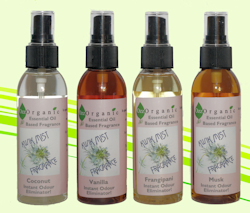 Ozz Organic
is 100% locally owned and made in Garfield, Victoria.
We pride ourselves on having operated for over 10 years supplying our products throughout Australia.
Our product range consists of NATURAL ORGANIC cleaning products for the home including Oven, Glass and Carpet cleaners, Tile & Sink cleaners, Dishwashing Liquid, Mosquito & Insect Repellents, Lice Treatment & Prevention and Kwik Mist Fragrances.
All ingredients used in
Ozz Organic
products are purchased from Thermogravimetric Analysis (TGA) approved sources.
We also produce Animal & Pet products used Nationally. They include Tail & Mane for animal grooming and Pet Shampoo & Conditioner.
We are committed to providing our customers with the highest quality organic products made from ingredients produced in Australia.
We also have a factory outlet in Garfield supplying DIRECT TO THE PUBLIC
for an appointment, please contact
ALL OUR PRODUCTS ARE PROUDLY BACKED BY OUR
100% MONEY-BACK GUARANTEE
Household Cleaners
Dish Washing Liquid - Ecologically sound
Sparkle & Shine - Kitchen & bathroom surfaces
Glass & Mirror Shine - No more streaks
Oven, BBQ & Fabric
Oven & BBQ Cleaner - Strips fat, grease & grime
Carpet Spot Cleaner - Removes most household dirt
Vanish Fabric Cleaner - Remove soiling & food stains
Convenient & Safe
Kwik Mist Fragrances
-
Coconut, Frangipani, Musk and Vanilla
Lice Treatment & Prevention - Removes lice & eggs
Mosquito & Insect Repellant

- Chemical free
Pet Products
Pet Shampoo - Coconut derived shampoo
Pet Conditioner - Detangle all types of pet and horse hair
Tail & Mane Grooming - Conditions coat and makes grooming easier
Diatomaceous Earth
Diatomaceous Earth is made from the fossillised remains of tiny aquatic organisms called diatoms, a type of hard-shelled algae. They are natural silica, which accumulated in riverbeds and streams and are mined and crushed to form the powder.
- is natural and contains 15 trace minerals
- prevents clumping of feed particles
- spread around chicken coops and bird averies